Cleveland, TN–As Christians living in a self-serving and self-destructive world, we must continually look to God's Word to stay on course. Sometimes, this means "backing up to find it," says J. David Stephens in his new book, Reverse.
Specifically, this book calls readers to step back and take a fresh look at Jesus' well-known promise in Matthew 7:7: "Ask, and it shall be given you; seek, and ye shall find; knock, and it shall be opened unto you."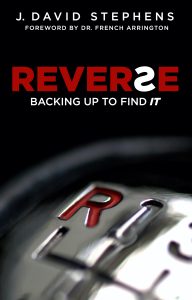 The six chapters of this study challenges the reader to . . .
1. Choose Your First
2. Confront Your Attitude
3. Confirm What You Know
4. Reverse Dependence: Ask
5. Reserve Assumptions: Seek
6. Reverse Paralysis: Find
Each chapter concludes with questions for personal reflection or group discussion. Copies of Reverse can be obtained by visiting pathwaybookstore.com.
J. David Stephens is a member of the Church of God Executive Committee who has also served as an evangelist, church planter, and church administrator.