Los Angeles, Calif.—Representatives from eight Pentecostal denominations joined in a celebration of the dedication of the Azusa Street Prayer Tower on April 14-15, 2023.
April 14, 2023, was the 117-year anniversary of the Azusa Street Revival, the iconic event regarded as a signature period in the modern Pentecostal movement. Many denominations trace their roots to April 14, 1906, including the Assembly of God and Church of God in Christ. For the Church of God, a revival in Cleveland, Tennessee conducted by Evangelist G.B. Cashwell from Azusa solidified its stand for Pentecostalism.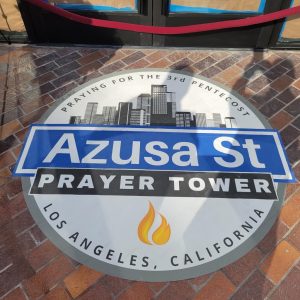 The April 14-15 event was led by Pastor Niko Njotorahardjo of the Gerja Bethel Church in Indonesia, California-Nevada Administrative Bishop Sean O'Neal, and Pastor Raymond Pronato. Special guests participating included 1,800 people from many cultures and nations who participated in seven worship services and two ceremonies conducted in four languages.
The delegation from the Church of God was led by General Overseer Tim Hill and Church of God International Executive Committee: Raymond Culpepper, Tony Stewart, David Ramirez, and Gary Lewis. There were also representatives from Church of God departments and ministries, local pastors, and dignitaries.
O'Neal reported statistics from the Spanish broadcast AZUZA SPEAKS SPANISH produced 5,386 calls with 2,943 reconciled, 2018 converted (salvations) from 38 states and 82 countries.
The radio audience reached 3,432,879, while the television audience reported nearly 4 million viewers.
The Azusa Street Prayer Tower was established as a space "for continual prayer, ministry and training in the heart of Los Angeles, California." It has been a project in the making for several years and is a partnership of the Gereja Bethel Church and the Church of God in California/Nevada. The Tower consists of a location just 156 feet from the actual site where William J. Seymour preached and the revival took place in 1906 at 312 Azusa Street.
"This is a partnership to network with all Pentecostals," O'Neal stated. "It is designed to bring us to a common goal as we are all praying for a Third Pentecostal Global Revival."
To learn more, visit azusastreetprayertower.com.