Since the unveiling of General Overseer Tim Hill's Harvest '24 last fall, several of the stated initiatives have realized notable progress. Harvest '24 is a roadmap for the Church of God to be an effective contributor toward FINISHing the Great Commission.
The primary tenets of Harvest '24 are seven mandates under three objectives: ADVANCE the Coverage of the Gospel, ACTIVATE the Calling of a Generation, and ACHIEVE the Continuity of Significant Growth. A 20-page document, Harvest Commission 2024: Laborers Together for Great Commission Completion, was first released during a Leadership Summit last September and then updated and re-printed earlier this month. The most recent version is available online at churchofgod.org..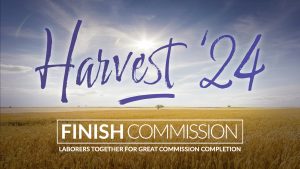 "My soul is blessed as I can report that many of the goals and aspirations of Harvest '24 are already reaping results," Hill stated. Under the ADVANCE objective, which seeks to "enlarge the national and global footprint of the Church of God in cities, counties, and countries with 1,000 new churches throughout the world," the latest statistics reveal the goal is already a third of the way there as reports have come in of over 300 new congregations planted between September and December around the world. Pastors, overseers, and laymen are laying the groundwork to establish life-giving churches that will nurture generations of believers and embrace the renewed call to the priority of evangelism through church planting.
There has been significant growth of the Church of God through unexpected venues, including 400,000 previously unreported members in Romania. Coupled with a significant membership surge for the church in India and South Asia, the Church of God announced on January 24, 2023, officially topping 8 million members around the globe at 8,177,439.
Under ACTIVATE, the credentialing of 5,000 young men and women by the 2024 General Assembly (GA24) seeks to mobilize an army of next generation ministers.
"Poised to disciple this growth is a generation keen to their ministry calling at an early age." Hill continued. "The Church of God is gearing up to equip these up-and-coming leaders between the ages of 17 and 29 by developing educational resources that will be attractive to high school teens who have already discovered that Pentecostal fire, as well as those with college degrees."
At the heart of seeking to ACHIEVE the continuity of significant growth is the integrity of financial management and fiscal responsibility. Removing a 20+ year debt on the International Offices to free up funds for ministry was set as a priority.
"When I was first elected to the Executive Committee in 2004, the International Offices campus had just been expanded allowing our movement to better serve the Kingdom. With that expansion came approximately $12 million of debt, which would be serviced over several years. Retirement of that debt has been a goal of general overseers and Executive Committees since then." At the September Leadership Summit, in conjunction with sharing the goals of Harvest '24, Hill announced to the leaders in attendance that the debt stood at $1.8 million. Since then, states, churches, and other partners have responded pledging in excess of $500,000.
The general overseer said, "Coupled with this response, and further guidance from the Lord, I believe we can retire this debt well in advance of GA24 as the total is now under $400,000."
"Christ has moved upon the hearts of believers and doors of opportunity have been presented that have enabled this progress in just over six months into Harvest '24," Hill concluded. "I am eagerly anticipating what God has in store between now and when we gather in Indianapolis for GA24!"
To view a video greeting from General Overseer Hill on Harvest '24, click here.