A nationwide culmination of a prayer movement will converge on the center of the United States as Prayer at the Heart of America will take place Friday, July 23, in a cornfield in Lebanon, Kansas, the geographic center of the 48 contiguous states.
This Prayer gathering is the result of a vision birthed in the heart of Church of God Prayer Coordinator Doug Small and his passion for a fresh awakening across the United States of America.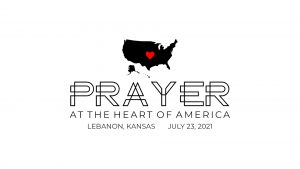 "Prayer At the Heart is a call to the family of faith, and the invitation is extended to everyone who believes that God is able to heal our land and that He is our hope for revival and restoration," Small stated. "This will be a national prayer, a gathering of believers who are hungry for revival. We are meeting to 'appeal to heaven' on the basis of an ancient prayer covenant. It was one offered to God by our first settlers in 1607 at Jamestown. With the spiritual authority granted to us in the name of Jesus Christ – the all authority of his name and office, and as a royal, kingly priesthood, we will gather as his humble representatives."
Months of planning have gone into the last few days leading up to the July 23 event as eight prayer routes from strategic points in the U.S. are moving toward Lebanon. Prayer leaders are staging "Calls for Prayer" events along the routes, which originated from Miami (Southeast), Virginia Beach, Va. (East), Augusta, Maine (Northeast), Grand Forks, N.D. (North), Donna, Texas (South), San Diego, Calif. (Southwest), San Francisco, Calif. (West), and Seattle, Wash. (Northwest). In addition, a caravan of motorcycles is traveling the circumference of the continental U.S. All routes are scheduled to arrive for the July 23 event which will begin at 2:00 p.m.
"Without question," Small continued, "our nation has turned its back on its Judeo-Christian heritage and foundation. The truth of God's Word is being ignored and rejected. Our sin has increased, and the moral fiber of our nation has been defiled. Biblically and historically, we discover that we must turn our face and faith toward God as a nation. The call is for the people of God who are called by His name, humble themselves and pray. Seek His face and turn from our wicked ways with the promise that He will hear our prayers, forgive our sins and heal our land."
Complete information of the prayer routes, prayer tools, resources, and other pertinent information is available by visiting the website prayerattheheart.com. More information and a connection to livestreams of the event will be available at americasprayermeeting.org.
Small concluded: "We pray, Yes, Lord, have mercy upon America and send us a fresh awakening. You will want to join us in Lebanon, Kansas, Friday, July 23rd, as we make our appeal to heaven. Help us spread the word, and let's make the journey to the heart of America as we pray at the heart of America."