Cleveland, TN–Brian K. Yaun was formally installed into the office of Assistant Director of Youth and Discipleship on Wednesday, July 14, 2021.
The ceremony took place at the International Offices with the Church of God Executive Committee, and joined via Zoom by state administrative bishops and members of the Youth and Discipleship board.
Yaun was elected l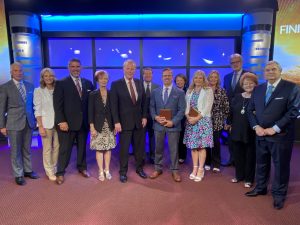 ast month in a special mail-in election that occurred due to the untimely death of Dr. David C. Blair on March 21, 2021, who was serving as the International Director. Former Assistant Director Rob Bailey was then installed in the director's post, and Yaun now succeeds Bailey. Until last week, Yaun was serving as the Youth Director for the Church of God in Tennessee.
Rob Bailey, who was also in attendance at the induction, said, "The commitment of Brian and Cathy Yaun to the Church of God and the youth of this generation has been demonstrated through many years of proven leadership. Christal and I are excited to welcome the Yauns to the Youth and Discipleship department!"
Upon Yaun's election, General Overseer Tim Hill said, "He (Yaun) will bring outstanding leadership qualities to the youth department. The Jeremiah Generation is in great hands with Rob Bailey and Brian Yaun."
Prior to being appointed in 2014 to Tennessee as State Youth and Discipleship director, Yaun spent more than twelve years serving in Florida as a youth pastor, music pastor, associate pastor, and as lead pastor. In 2002, he was called into youth ministry on the state level and served in Arizona and Kentucky before the last seven years in Tennessee.
"We believe God has gone before us and established his grace in the place of his calling upon our lives," Brian Yaun stated. "Cathy and I are humbled and honored to serve the Jeremiah Generation with Rob and Christal Bailey and give them our full support as we work together to equip a generation to fulfill the Great Commission."
Cathy Yaun is employed at Lee University as Director of Online Academic Services, in addition to serving as an academic advisor and English instructor. They have two sons and three grandchildren.