General Overseer Tim Hill and the Church of God International Executive Committee have prepared an agenda of updates and information which will take place during a virtual Global Minister's Meeting set for Wednesday, February 17, 2021 at 2:00 pm EST.
The online global gathering will be conducted in a webinar format and will be open to all Church of God ministers. A graphic will appear on churchofgod.org in the days leading up to the event where participants can receive instructions on how to log in.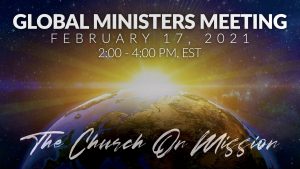 The Global Ministers Meeting will resemble the virtual event conducted on April 29, 2020 when General Overseer Hill addressed several critical issues at that time, including the decision to postpone the 2020 General Assembly because of the COVID-19 pandemic.
Prospective items on the agenda for the February 17 online meeting will include a report on where the Church of God has come over the last year navigating the pandemic; updates from selected ministries; economic, medical, and legal recommendations from experts in the field; recommended resources; encouragements from church leaders; and more.
Ministers and laypersons are encouraged to make every effort to set aside this time to hear the latest plans and progress and engage with Church of God leaders.