Cleveland, TN–Lee University President Dr. Paul Conn announced Thursday that the school is establishing an Office of Racial and Ethnic Relations with Cleveland educator and Lee alumna Gloria Scott-Richmond as its first director.
Conn said the action was taken by the Lee Board of Directors in a meeting earlier this week. "This is a step forward for us as we work. We are eager to make Lee University a place where students and staff of color can thrive, more now than ever. I am confident Gloria can make a major contribution in this new initiative."
"I'm excited. I feel honored, and at the same time I feel the weight of the responsibility," said Scott -Richmond. "What supersedes that weight is the peace in my soul of God telling me 'Gloria, this is the path I have for you.'"
In accepting the Lee appointment, Scott-Richmond leaves a 30-year career with Cleveland City Schools, which she began soon after graduating from Lee College in 1988 with a bachelor's degree in music education. She spent most of those years at Blythe-Bower Elementary, but also served at Cleveland High School and E. L. Ross Elementary.
She holds a Master of Music Education from Lee. Originally from New York, Scott-Richmond also studied performing arts at City University of New York.
Scott-Richmond continued, "What can I say about it other than to say this is the hand of God. In this whirlwind process, God had the right people at the right places in the right offices for this appointment."
For the past 10 years, Scott-Richmond has also worked with Lee students as director of the popular choir Evangelistic Singers (EVS), which continues the legacy of the Black Gospel genre "from spirituals to urban contemporary" styles.
"Gloria is equally a part of the Cleveland community and the Lee family," Conn said. "She is so highly admired all across this town and campus. I am so grateful that she has decided to take the challenge of developing new programs and initiatives here at her alma mater. "
She will join the Student Development administrative team, working with Dr. Mike Hayes, vice president for student development. According to Conn's announcement, her full-time job will be to "help us listen, learn, and make Lee a better place for people of color."
Scott-Richmond added, "My family has been so supportive as I've worked with Lee over the years. This is a big appointment for them, too.  They might be more joyful than I am. My 91-year-old mom said, 'Praise God,' when I told her the news. "Praise God that Lee gets it, that they are making this courageous step."
(Source: Lee University)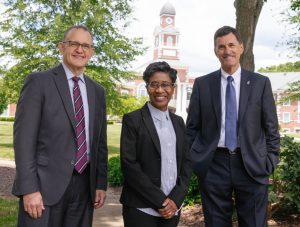 Gloria Scott-Richmond, center, is welcomed to the Lee administration by Vice President for Student Development Mike Hayes, left, and President Dr. Paul Conn