Galilee, Israel–The Church of God Journey of Pentecost officially began Tuesday morning by the sun-kissed seashores of Galilee. Unofficially, this historic tour found its conceptual roots here two winters ago in the heart of a Tennessee pastor's wife, inside a basement-level chapel in the city of Magdala.
"When I stepped onto the grounds of Magdala, and into this atrium, for the first time in my life I felt secure about who God called me to be," said Theresa Arwood, preaching behind an altar-shaped table to 75 church leaders, pastors and laity from the Church of God. "As I saw the names of all the women God used on the pillars outside, including Mary Magdalene, I no longer felt shame for happening to be a female and preaching the Gospel, as if there was something wrong with that."
"I'm on this side of the table today because Jesus Christ has power to set people free – there is still freedom in His name!"
With those bold words of exhortation, the room was filled with the sounds and sights of Pentecost.
"This is a prophetically aligned moment," General Overseer Tim Hill declared during a Spirit-filled time of prayer.
This was a fitting, and powerful, start to this Journey of Pentecost. What began as a revelation to Arwood, a self-described "housewife with a Bible" from Purpose Church in Sevierville, Tenn., had now come to pass as a historic tour led by Dr. Hill and his wife, Women's Ministries President Paula Hill, who captured the vision from Arwood for this trip and planned and prepared for this impactful pilgrimage to the Holy Land.
The day began with a visit to Capernaum, a 1st-century trade center where Jesus spent much of his ministry. The group visited the ruins of an ancient synagogue, located nearby what is believed to be the black lava-rock ruins of the Apostle Peter's house.
That was followed by a stop at a museum that displays an ancient fishing boat from the days of Jesus, the oldest of its kind. The group then took a serene boat ride on the Sea of Galilee, with gifted singer Angela Primm leading a Holy Spirit worship service, and Executive Committee member J. David Stephens delivering a devotion.
They also visited the Mount of Beatitudes, where Executive Committee member Dr. David E. Ramirez shared a message on the famous words of Christ once shared on this mount that is now covered with bright yellow mustard-seed flowers.
Tuesday evening, the sounds of Pentecost continued at an outdoor plaza next door to the Voice of Hope radio station. Dr. Hill went on the air with a 7-minute message about the Love of God that was broadcast to up to 30 million Muslims in six neighboring Middle East nations.
"This," Hill said as the sunset on the Sea of Galilee behind him, "has been an amazing and anointed start to our trip."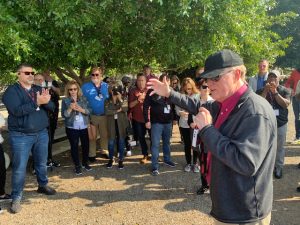 General Overseer Tim Hill leads a devotional time at the Biblically-historic city of Capernaum on the shores of the Sea of Galilee.
(Source: David White)
–David White is the Youth and Discipleship Director of the California/Nevada Church of God, where he pastors the Porterville Church of God and a bilingual church plant, the Poplar Iglesia de Dios.