Cleveland, TN–A reunion gathering of more than 100 alumni from the Voices of Lee of Lee University will celebrate 25 years of the premier vocal ensemble this Saturday, September 14. The event will be held at 7:00 p.m. EST at Conn Center on the Lee University campus.
Voices of Lee made their debut performance in September 1994 during Celebration '94, an event that included the dedication of a new dormitory to replace Ellis Hall which was destroyed by a massive fire in November 1993. Since then, and under the direction of Danny Murray, the ensemble has performed at numerous locations around the globe. Sites and events include the Notre Dame Cathedral in Paris, Christmas at the White House, Carnegie Hall, and the Shanghai International Music Festival. In 2018, they were featured at "Christmas on Broadway" a nationally-telecast concert called "Make the Season Bright" from the Beacon Theatre in New York City.
Voices of Lee was propelled into the international spotlight in 2009 when the group appeared on the debut season of NBC's Sing-Off competition for a cappella groups and finished second runner up. Last year, Voices won awards for "Collegiate Group of the Year," "Religious Group of the Year," and "Video of the Year" at the A Cappella Music Award ceremony in Nashville for their music video of "What a Beautiful Name." The video, along with another recorded in May 2017, has been viewed more than 100 million times on social media channels.
Voices has also appeared on "Good Morning America," Bill Gaither's video series, the Gaither Family Fest, and produced the "Voices of Lee Evening" at Miracle Theatre in Pigeon Forge, Tennessee, each week for nine months. They have recorded 16 CDs and two DVDs.
"What an honor it has been to lead Voices of Lee for the past 25 years in our mission to represent Lee University and be ambassadors for Cleveland, Tennessee!" said Murray, who has coached collegiate musicians for more than 40 years. Having spent the last 25 years as director of Voices, Murray holds the record for the longest running directorship of any vocal ensemble in the history of Lee University.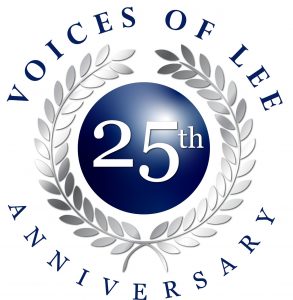 Tickets are available for $15 (balcony), $20, or $30, depending on seating selection. To purchase tickets, call (423) 614-8320.
For more information about Voices of Lee, visit www.voicesoflee.com or call (423) 614-8320.