Cleveland, TN— On July 30, 2019 the Pentecostal Theological Seminary (PTS) held the first "Thrive Mentor/Coach) Training Seminar" on the campus of Pentecostal Theological Seminary. PTS Thrive endeavors to provide thriving pastors as mentors and coaches for early-career pastors, and mid-career pastors encountering significant conflict.
"In keeping with the mission of PTS Thrive we recruited a number of pastors and ministers to serve as potential mentors and coaches and developed a training seminar," stated Dr. Dan Tomberlin of PTS. "Dr. Mark Hardgrove was commissioned to prepare a training manual – PTS Thrive Manual: A Mentoring and Coaching Guide to Surviving, Sustaining, and Thriving in Ministry – which serves as the primary curriculum for PTS Thrive mentors and coaches."
Tomberlin presented a session that introduced the mission of the program and Hardgrove presented four sessions that detailed the Thrive initiative. The seminar was attended by twenty-five persons on campus and two joined via ZOOM.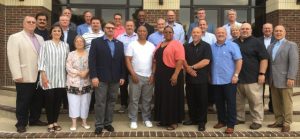 The participants were: Larry Sterling (FL), Richard Fowler (IL), Mark Cary (VA), Paul Hollifield (VA), Douglas Adams (NJ), Lisa Adams (NJ), Woody Jarrett (GA), Byron Powers (GA) Donald Steffy (PA), Kevin Wells (PA), Brian Shaverly (IN) Michael Alley (IN), Dewayne Moree (NC), Jay Rhodes (AL), Eddie Allen (SC), Terry Cross (TX), Connie Cross (TX), Ray Pratt (TN), Kevin Mendel (TN), Eddie Sweeney (DelMarVa), Yvonne Sweeney (DelMarVa), Keith Whitt (TN), and Bill Isaacs (OH).
According to Tomberlin, the next step of the PTS Thrive initiative is to identify and enroll early-career pastors, and mid-career pastors in conflict into the Thrive program and pair them with a mentor/coach. For more information contact [email protected]