"Awakening the Church in North America," written by J. David Stephens, is the latest resource released by the Church of God's Pathway Press.
Stephens, who has served as Second Assistant General Overseer for the Church of God since 2012, has compiled his decades of leadership and experience into a volume designed to address the changing landscape of ministry in the United States and Canada.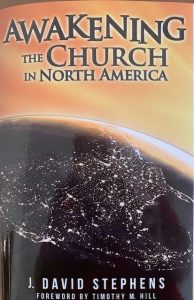 In his foreword of the book, Church of God General Overseer Tim Hill states, "Anyone born in the 1960s, or before the so-called 'Baby Boomers,' can recall the days when the USA and Canada were viewed as countries where missionaries were sent out to 'save the world.' Both counties were referred to as overwhelmingly Christian, and natives of those countries took pride (rightfully or not) in proclaiming that evangelism was needed more 'beyond our borders' than within them." Hill goes on to say, "J. David Stephens is uniquely qualified to recognize not only where we have been, but also how we might return to those days of being on the front lines of evangelism."
In addition to serving on the Executive Committee of the Church of God, Stephens has served in various ministry assignments in virtually every region of North America, including Canada. He has witnessed the the shifting tides of evangelistic fervor and the rise of other nations to challenge the perceived dominance of North America in winning souls.
Speaking specifically about the Church of God in North America, Stephens said, "we must recapture the passion for the Gospel we had in our formative years. Ministers and churches in the United States and Canada need to catch a second wind—a fresh infusion of Holy Spirit empowerment the Church of God possessed 100 years ago."
Chapters in the book include such titles as, "Spiritual DNA Matters," "Reviving What Remains," "Communication That Connects," "Reaching Wherever You Are," and "Awaken to Your Purpose."
Awakening the Church in North America is available at pathwaybookstore.com and in Spanish, produced by the Church of God's Editorial Evangelica. It is also available at amazon.com/kindle.
"I believe this is a book for such a time as this," Stephens concluded, "and it will be an effective tool, informing and inspiring ministers and laity to FINISH our mission."