Plans are already underway for the 78th Church of God International General Assembly, which will be in session one year from this week.
Scheduled for July 21-24, 2020, the Assembly will take place at the Indianapolis Convention Center in Indianapolis, Indiana. The Assembly returns to Indianapolis for the first time since 2006 when the Church of God gathered for the 71st Assembly. During that week delegates commemorated the 100th year since the first General Assembly when 21 delegates came together at the home of J.C. Murphy in Cherokee County, North Carolina on a snowy January in 1906. This will be the fifth time the Church of God has held an Assembly in Indianapolis.
Indianapolis is nicknamed the Crossroads of America for its central location to much of the country's population. More interstate highways converge in Indianapolis than any other city. The airport is located just ten minutes from downtown. This connectivity makes it an ideal location for the General Assembly.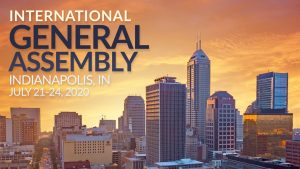 While much has changed in the 13 years since the Church of God last gathered in the city, much remains the same. Indy features a wide variety of hotels and eateries, including the Circle Centre, a large mall of retail and restaurant space connected to the convention center.
The most noticeable change will be the expansion of the Indianapolis Convention Center to include a meeting space large enough to accommodate the thousands of Church of God delegates. In 2006, business and worship sessions were held in the RCA Dome, former home of the Indianapolis Colts. The Dome has since been demolished and replaced with Lucas Oil Stadium.
The Convention Center has been enlarged and modernized to allow the Assembly to gather in a hall more suitable for the Assembly. The updated space is more than adequate to accommodate the many events surrounding the Assembly, including Junior Talent, the Women's Service, and exhibit hall.
Among the many hotels located within walking distance of the convention center is a new Marriott which opened last year. Other hotels include the Westin, Conrad, Hilton, Hampton Inn, Canterbury, Hyatt, and Omni.
Updates concerning the 78th International General Assembly will be forthcoming over the next several months. These announcements will include the Assembly theme, keynote speakers and guests, special events, and information regarding registration, which is set to officially open in January 2020. The General Council Agenda will be released next spring following the April gathering of the International Executive Council.