Cleveland, TN–Orphan Run 4 Hope has announced two runs for the organization which seeks to raise funds to impact 53 orphanages in 27 countries.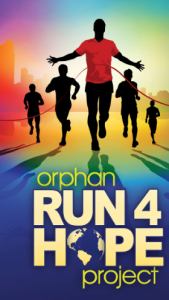 According to Orphan Run 4 Hope Director Mark Swank, the organization will be conducting its first international run in the country of Scotland.
"We are so excited to have our Scotland Run 4 Hope event on June 1, 2019," Swank said. "It will be an awesome time where Church of God congregations in Scotland will gather to participate. I appreciate National Overseer, Dennis Tanner, and Andrew Akilan, the National Youth Director, for their leadership in this historic first."
Also announced is another first-time event, the "Winterfest Adventure Run," to be held at the Smoky Mountain Children's Home in Sevierville, Tennessee. The run will be held in conjunction with the Smoky Mountain Winterfest weekend, scheduled for March 8-10, 2019 at the Thompson-Boling Arena on the campus of the University of Tennessee.
"The Adventure Run will take place at the children's home in Sevierville, Tennessee on Saturday, March 9 at 2:00 p.m.," Swank explained. "This will be an awesome day where participants who come to Smoky Mountain Winterfest can join in to make a difference for 51 orphanages in 27 countries." Tours of the Smoky Mountain Children's Home will also be given to interested participants that day. For more information go to www.mywinterfest.com and look for the "Orphan Run 4 Hope Adventure Run."
Orphan Run 4 Hope is a ministry of Church of God International Youth and Discipleship that helps connect churches with orphanages overseas through charity runs. Since the launch and first charity run in 2015, churches in 17 States have joined the effort and raised more than $500,000.
"Our approach is unique in that we do not take up offerings or pledges," Swank stated. "Participants simply get sponsors to donate from their network of friends, family and co-workers. An Orphan Run 4 Hope event is something that the whole church can participate in. We take a family fun approach with a 5k Run or walk; a one-mile walk; or a Kids Adventure Run. Make a difference in the lives of orphan children through Orphan Run 4 Hope!"