March 16, 2018–Cleveland, TN—Church of God General Overseer Timothy M. Hill took to Facebook Live to officially announce the theme for the 77th International General Assembly set for July 30 – August 3.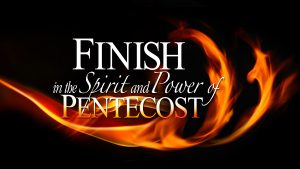 "FINISH in the Spirit and Power of Pentecost" will be the theme for the Assembly, to be held in the Orange County Convention Center in Orlando, Florida. The biennial international gathering and business meeting of the ministers and laity of the Church of God will be conducted in the West Concourse of the OCCC.
In announcing the theme and accompanying logo, Hill stated. "This theme carries with it our Pentecostal heritage and distinctive…it is part of our mission statement that we proclaim the Gospel 'in the spirit and power of Pentecost.' I want you to know that your Executive Committee has made this a top priority in our prayer time together."
Hill described that for the past two years, the Church of God has been focused on FINISH – and specifically finishing the Great Commission challenge found in Matthew 28.
"We are continuing our efforts to fulfill and finish the Great Commission, but over the next two years, we will focus on the reality that such cannot be accomplished unless we are operating in the Spirit and Power of our Pentecostal heritage. As we continue to see the outpouring of the Holy Spirit, I believe that we will move towards the complete fulfillment of the Great Commission in our lifetime."
FINISH stands for Find…Intercede…Network…Invest…Send…Harvest.
To view the video announcement, search COGHQ on Facebook.
Scheduled speakers for the 2018 General Assembly and the accompanying LEAD Conference include Tony Evans, Jentezen Franklin, Robert Morris, Juan Garcia, Sam Chand, Joyce Rodgers, Leon Fontaine, Rae Orozco, and General Overseer Hill.
To register and to learn more about the upcoming General Assembly, please visit www.GA18.org.