Cleveland, TN—The Pentecostal Theological Seminary (PTS) has launched a new publication titled, SPIRIT. The announcement comes from Michael L. Baker, President of PTS and Chancellor of Education for the Church of God.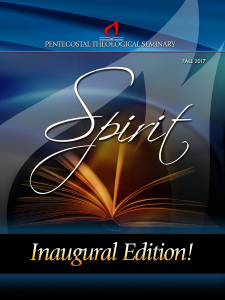 "For more than four decades, the Pentecostal Theological Seminary has been committed to provide theological higher education for men and women engaged in Holy Spirit-filled ministry around the world," Baker stated in a letter from the Seminary. "As we look to the future, one of our significant goals is to maintain connection with our constituency. This is not just another periodical, magazine, communique, or report. It is a relevant, meaningful, informative, and inspirational publication designed to reach a broad spectrum of readers." Baker stated that the title, SPIRIT, is congruent with the PTS mission, vision, and commitment to Pentecostal studies.
According to Baker, each edition will provide a concentration of features including thematic presentations, theological points of view, enrichment and leadership development, inspirational narrative, coaching and mentoring, visionary outlook, and special attention to showcase and profile PTS alumni. Writers will include a wide variety of theologians, alumni, pastors, ministers, and youth leaders bringing global multicultural representation.
SPIRIT is primarily an online publication with the exception of the inaugural edition which will provide both printed and online versions, Baker stated. Each feature will be a quick-read and a quick-review of the entire edition. Further, an added cutting-edge component will be a variety of embedded videos enhancing the publication.
Access to SPIRIT is on the PTS website at www.ptseminary.edu or www.ptsspirit.com.
(Source: Pentecostal Theological Seminary)