Cleveland, TN–David W. Ray, General Director of Church of God Publications, has announced the release of a new curriculum for teaching children of the church.
After nearly a year of preparation and research, Pathway is offering the new fully digital, fully customizable Children's Ministry Curriculum in partnership with David C. Cook and One Accord entitled "Wonder Ink."
"I am thrilled that this exciting new addition to our curriculum options is now available," Ray stated. "This curriculum is designed to be applicable to all areas of children's ministry of the local church. It covers ages toddler through 5th grade and can be utilized as curriculum for a Sunday School, children's church, or midweek children's program."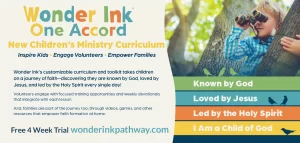 Wonder Ink is touted as, "a customizable toolkit that takes children on a journey of faith—discovering they are known by God, loved by Jesus, and led by the Holy Spirit every single day."
Ray went on to say that Wonder Ink is very affordable.
"If a church subscribes for the full year and utilizes it to teach toddlers, early childhood and elementary age children it will cost them less than $6 per class per week," Ray stated. "Churches can also try it for free for four-weeks. That's four full lessons."
Other features of the curriculum include a portal for parents to access that contains games and ideas to do with the students throughout the week that reinforce the lesson taught. Wonder Ink comes complete with games, videos, and promotional resources for each series of lessons and much more.
To learn more about this new program, Pathway has established a dedicated website at wonderinkpathway.com.