Cleveland, TN–Next week, from July 31 to August 4, Lee University will host the 2023 Church of God International Teen Talent, a competition which aims to help young people ages 13-19 discover their talents, develop that talent, and dedicate it to better serve the Lord. Students will compete in six categories, including music, art, drama, multimedia, creative writing, and Bible.
"Teen Talent has been an important part of the Church of God tradition for many decades," said Dr. Brad Moffett, vice president for University Relations at Lee. "As I look over the landscape of the denomination and at Lee University, I see many leaders who participated in this event at some point in their lives. It is a pleasure for Lee to partner with the International Church of God Youth & Discipleship department, under the leadership of Rob Bailey and Brian Yaun, to host this year's event."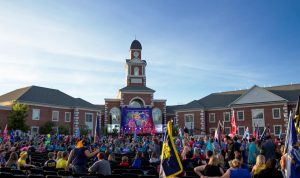 According to Moffett, who oversees the university's role in Teen Talent, more than 1,000 student entries have registered for this year's event, and many of these competitors and their families will stay on Lee's campus. Lee-coordinated activities for the participants include a block party, a worship rally, the LeeU Meet and Greet Ice Cream Social, and Battle of the States, a competition in which participants divide into teams based on state, region, or country, and compete against one another.
"On behalf of our team at the International Youth and Discipleship Department, we welcome everyone to International Teen Talent!" said Bailey, international director of Youth & Discipleship for the Church of God. "Participants have gathered from five countries and 36 states and regions to glorify God with their talents, and we are grateful to be back on the beautiful campus of Lee University.
The week's events will culminate with the Teen Talent Awards Festival, which will take place on Friday, Aug. 4 at 7 p.m. on the lawn of Lee's Science and Math Complex. Scholarships will be awarded to winners of certain categories.
All competitions are open to the public to attend. Lee will also livestream many of the events throughout the week on multiple web-based channels, including www.leeu.live.
For more information about Teen Talent or to view a schedule of events, visit https://www.cogyd.org/teentalent.
(Source: Lee University)