The third "100 Day Report" from Church of God World Missions was recently released. It was the third such report since World Missions unveiled the 365 Challenge at the 2022 General Assembly last summer.
"With 3.2 billion souls yet to hear the gospel message, our global team is making the most of every day through the 365 Challenge," said General Director M. Thomas Propes. "We are determined to reach the last, the least, and the lost of humanity!"
"There has simply been no letting up," Propes continued. "We have been vision casting at Pastor's Coalitions from Tennessee to California. We have responded to natural disasters from the Caribbean to Pakistan. We have taken short-term mission trips from Japan to Zambia. New people groups are receiving the gospel for the first time. It is amazing!"
Within the report, which was accompanied by a video (available below), Propes presented a multicultural glimpse of what World Missions through the 365 Challenge has accomplished in the first 300 days: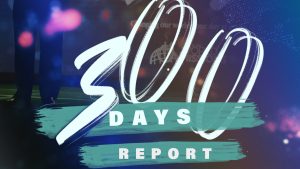 Project Support: Broke ground on a new medical clinic in Zambia; financially partnered with churches and pastors in Pakistan; dedicated the refurbished LEAD church in Glasgow, Scotland; dedicated the new Asian Seminary of Christian Ministries campus in the Philippines; resources were used to support Bible schools in Jamaica and throughout the Middle East; provided resources to feeding centers in Thailand; planted a new church in New Zealand; constructed an orphanage in India; and several hundred church building projects worldwide.
Aid and Relief: Help was sent for Cyclone Freddy in Malawi and Mozambique; humanitarian relief reached the people of Pakistan; and recovery from natural disasters continued in Honduras, the Caribbean, and the United States. Also in this category aid also went to refugees in Congo and Arab refugees in Greece; provided clothing for women ministers in Indonesia.
Training and Education: Linda's Kids Academy broke ground on a junior high school in Kenya; World Missions leadership participated in the Bethel Women's Conference in Jakarta, Indonesia; Ministry training was a key element in several mission trips to Zambia and Japan. And World Missions hosted the first KidsFest in Lusaka, Zambia.
"Through it all, the Gospel was preached, and countless souls have been added to the church," Propes concluded. "Join us in continued prayer as World Missions finishes its first 365 days strong! There is more to come…!"
To view the latest 100 Days Report video, as well as the previous two and other information regarding the 365 Challenge, click here: To donate to the 365 Challenge, text CHALLENGE to 801801.