Rev. Paul F. Henson, a Church of God pastor, state overseer and popular minister of the gospel around the world, passed away on Wednesday, April 25, 2018 at his home in Cleveland, Tennessee.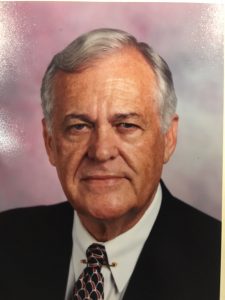 Henson, 84, started his ministry four months following his conversion and a few days shy of his 16th birthday. He became a licensed Church of God minister the same year and received his ordination at just 25 years of age. He was pastoring his first church (in Marks, Mississippi) at the age of 22, where he was tapped after three years to become the youth and Christian education director for the state. From that first appointment where he served for the next six years, Rev. Henson became one of the youngest elected to the post of Assistant Director of Youth and Christian Education for the Church of God at the age of 31. Four years later he would be elected to the director's post. From 1972-1976 Henson was state overseer of Oklahoma, followed by four years as overseer of the Church of God's largest region, North Georgia. In 1980, Henson returned to the pastorate for six years where he led the congregation of Westmore Church of God in Cleveland, Tennessee. In his final years of leadership Henson was an international evangelist and from 1998-2004 he served as the director of SpiritCare Ministries. Between the years of 1974 and 1994, Henson served on the International Executive Council a total of 16 years. He was also a member of the boards of World Missions, Youth and Christian Education and chairman of the National Radio and T.V. Board. Over his more than 50 years of ministry, he was the speaker at over 100 camp meetings and numerous youth crusades.
"Paul Henson represented the best of a generation of ministers who rose to prominence in leadership through hard work and dedication to Kingdom building," stated Church of God General Overseer Tim Hill. "Throughout his ministry, he exemplified a kind and loving spirit, winning hundreds to a saving knowledge of Christ and demonstrated quiet and effective leadership in every office he served."
Paul Henson was married to Geri Henson for 68 years and they are the parents of seven children.
The Henson family will receive friends on Saturday, April 28 from 1:00 – 3:00 p.m. at the Dixon Chapel at North Cleveland Church of God in Cleveland, Tennessee. Funeral services will be conducted at 3:00 p.m. following the visitation. Burial will take place at Peachtree Memorial Cemetery in Norcross, Georgia on Sunday, April 29.
Jim Rush Funeral Home in Cleveland is in charge of arrangements.