Church of God Prayer Ministries has an on-going initiative to involve the local church in a regular program of prayer. It's called the Praying Church Movement.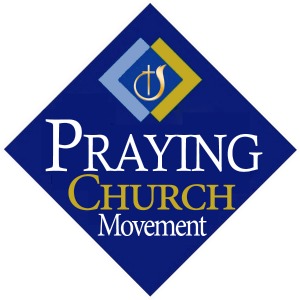 The Praying Church Movement is a network of Church of God Prayer leaders who affirm the seven commitments of a praying church and are moving toward these goals. They are:
1.Led by a praying pastor, and aided by a prayer leadership team, we commit to bring prayer to the heart of all we do! "Without Christ, we can do nothing!" Therefore, our resources, spiritual and material; our plans and programs, we will bathe in prayer.
2.We will encourage at-home, daily, to-be-like-Jesus praying. We will reestablish our personal and family altars. We will embrace the discipline of daily times with God, with one another as couples, and as families. We will champion the idea of prayer rooms/closets.
3.We will call our congregation to regular 'Great Days of Prayer!' with the goal of establishing a regular prayer meeting for the entire church at least monthly, if not, weekly. We will make the prayer meeting as important as Sunday Morning singing and preaching.
4.We will honor those who carry a special calling to pray – intercessors. We will identify intercessors, encourage them, train them, team them, deploy them and debrief them.
5.We will engage in prayer evangelism, turning prayer outward onto the neighborhood, the city, state and nation – and we will adopt a mission field for prayer, one near and one far. We will pray for the harvest. We will seek to identify the people for whom God has made us most responsible, and we will begin the process of evangelism in prayer, look for ways to care, and steward the opportunities to share the gospel.
6.We will work toward the creation of prayer room or center, a physical space dedicated to prayer at our church, and we will encourage the use of such a space by members and prayer groups. We will provide resources for prayer – that run through all our departments, until we have a praying church, and not merely a prayer ministry.
7.We will offer regular training in the area of prayer – for our people, leaders, intercessors, prayer evangelism, our youth and children, our families.
Pastors and local prayer leaders are encouraged to work toward the above commitments through the following steps in a calendar year (movement does not have to begin January 1):
1.Sign-up for membership in the Praying Church Movement at www.praycog.org.
2.Promote the GREAT DAYS OF PRAYER, the 1st Sunday of every quarter.
3.Post the Prayer Initiative dates to your church calendar – January 10 – 31: "Fasting for His Favor!" Pre-Easter: "Seek God for the City!" (With Pentecost Sunday, Support Materials). 30 Days of Prayer – September. Plan additional days of prayer – see the calendar and resource section. Check with the State Office and State Prayer Team about state prayer initiatives. Plan creative prayer efforts with other congregations.
4.During the 'Seek God' 40 Day Prayer Evangelism effort – plan special prayer gatherings, prayer walks, prayer chains, virtual prayer meetings by phone/internet. Do a prayer rally. Identify intercessors. Plan prayer walks. Target sectors of the city for special prayer. Pray for loved ones.
5.Pentecost Sunday is also the date for the Global Day of Prayer. The Seek God for the City material will have a special 10-day prayer guide leading up to Pentecost Sunday. Reclaim that day as a day of renewal in the Holy Spirit and a fresh call to see the harvest.
6.Establish a Prayer Discovery-Learning Team. Start the process of discovering what it means to be a praying church. Develop a team. Learn together. Pray together. Devour this manual. Go explore together. Grow the prayer effort slowly and deliberately – a goal of 20% of your congregation involved in consistent prayer efforts will eventually change the culture of your entire congregation.
7.Get your leaders connected to the www.praycog website, the official prayer ministries website for the Church of God.
8.Encourage your prayer team to join an information and vision call once monthly, exclusively for prayer leaders.